Believe it or not, a suitable knife greatly enhances your experience of cooking. If you are looking for a versatile knife, a chef knife must be your best choice.
Fiery phoenix series adopted German High-carbon Stainless steel, it promises you the blade won't rust over time in most of the circumstances and easy to resharpen. Most importantly, the steel is processed with precise heat treatment at HRC 56+/-2, so the high hardness of the blade is more robust when it comes to cutting and features with great edge retention. Furthermore, the blade features great edge retention and the edge won't chip easily.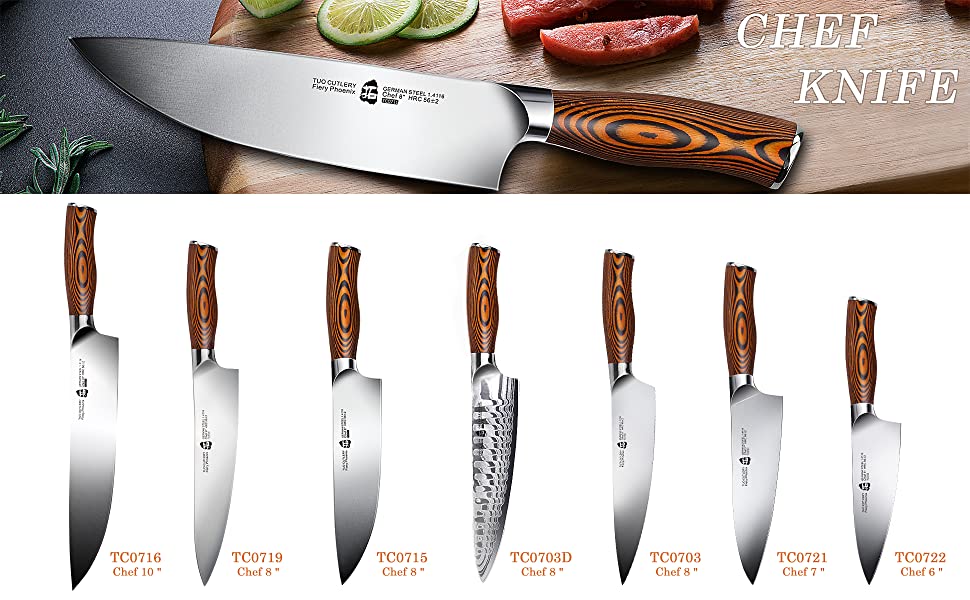 More than that, using the traditional 3-step Honbazuke method, the edge is hand sharpened by highly-skilled knife smiths, each blade of Fiery phoenix 8'' chef knife is honed at 18 degrees. This razor-sharp blade provides for unmatched efficiency.
In order to give you a better experience of using, Fiery phoenix 8'' chef knife is ergonomically designed to help you hold comfortably in your hand with great balance. The Pakka wood showcases the beauty of the natural material and the uniqueness of each handle. The bolster of the handle is carefully polished for a perfect pinch grip.
Ready to be more efficient for your kitchen prep work? You can pick the Fiery phoenix 8'' chef knife right now on our official website: tuocutlery.com.