Reproduced: https://kitchendeets.com/tuo-cutlery/
Writer: Daniel P. Craig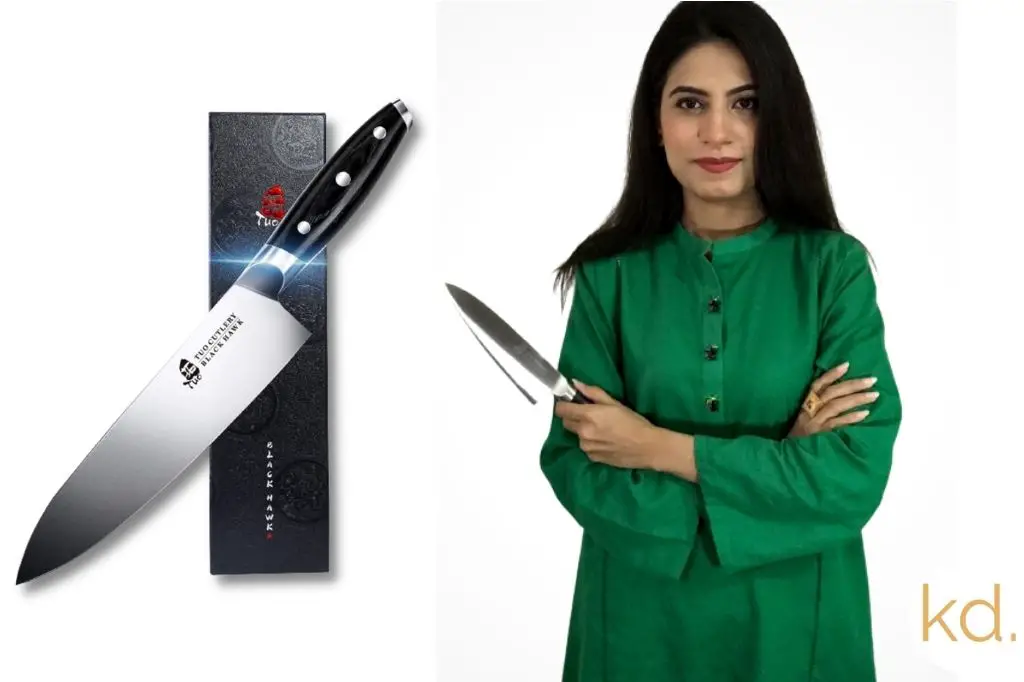 If you're looking for a high-quality set of knives to use in the kitchen, then Tuo Cutlery is a perfect choice.
In this Tuo knives review and Tuo cutlery review, we'll discuss why Tuo knives are the best on the market and why they should be your go-to choice when it comes to cutting and preparing food. With their superior craftsmanship, ergonomic design, and sharp blades, Tuo Cutlery knives are the perfect addition to any kitchen.
Use links below for easy navigation
Tuo Cutlery History
Tuo Knives Review
The Different Types of Tuo Knives
What Makes Tuo Knives Stand Out?
Bottom Line
Tuo Cutlery History
| | |
| --- | --- |
| Tuo Cutlery Founder | CK Zhou |
| Origin Country | Yangjiang, China |
| Awards Include | Best Kitchen Knife in 2019 |
Tuo Cutlery is a brand of knives that has been around for over a decade, offering quality cutlery to those looking to equip their kitchen with the best. Tuo was founded by CK Zhou, who had a passion for craftsmanship and creating high-quality kitchen knives.
Tuo Cutlery began by producing traditional Japanese-style kitchen knives, crafted from high-carbon steel, and utilizing traditional heat treatments to create superior blades. They quickly expanded their product range to include modern stainless steel knives as well as specialty knives such as cleavers, nakiri, Santoku knives, and other kitchen tools.
Since then, Tuo Cutlery has become one of the leading knife makers in China and around the world, crafting superior blades that are known for their precision and sharpness. All of their products are made from the highest quality materials and go through rigorous testing to ensure they meet the highest standards. They also offer a lifetime warranty on all their products, which further demonstrates their commitment to providing quality knives that stand the test of time.
If you're looking for quality knives that will make your kitchen prep work easier and more efficient, then Tuo Cutlery is definitely worth a look. With their commitment to craftsmanship and their lifetime warranty, you can be sure that you're investing in a product that will last.
Tuo Knives Review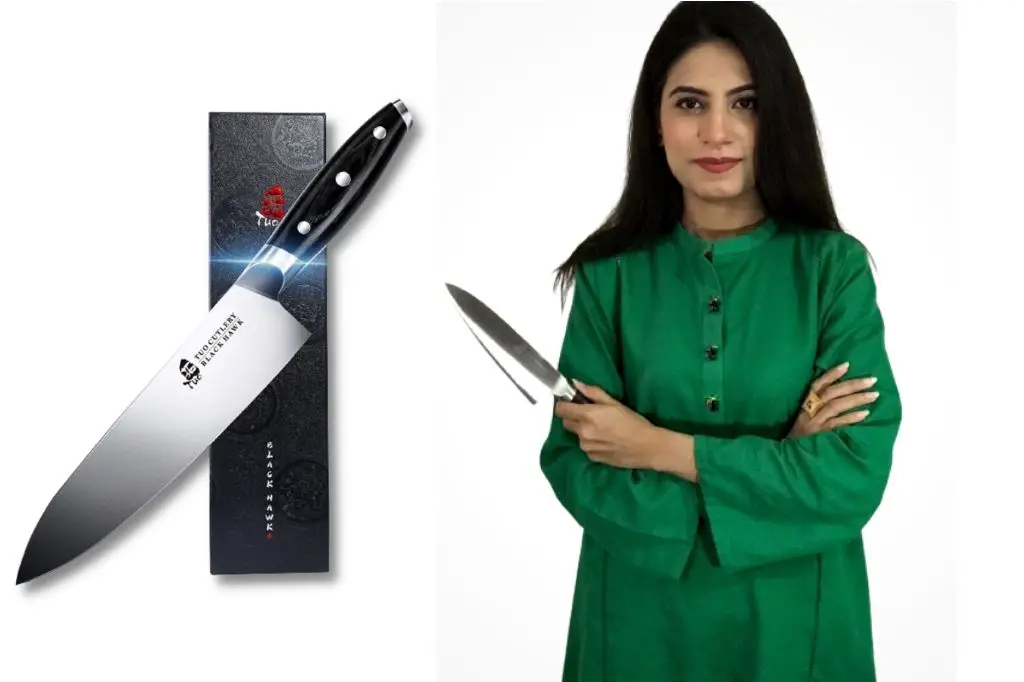 We'll break down why Tuo knives are the best on the market, giving you all the information you need to decide if they're right for you.
Here we will discuss Tuo cutlery's top-selling knife sets starting with Black Hawk.
Black Hawk Series Knives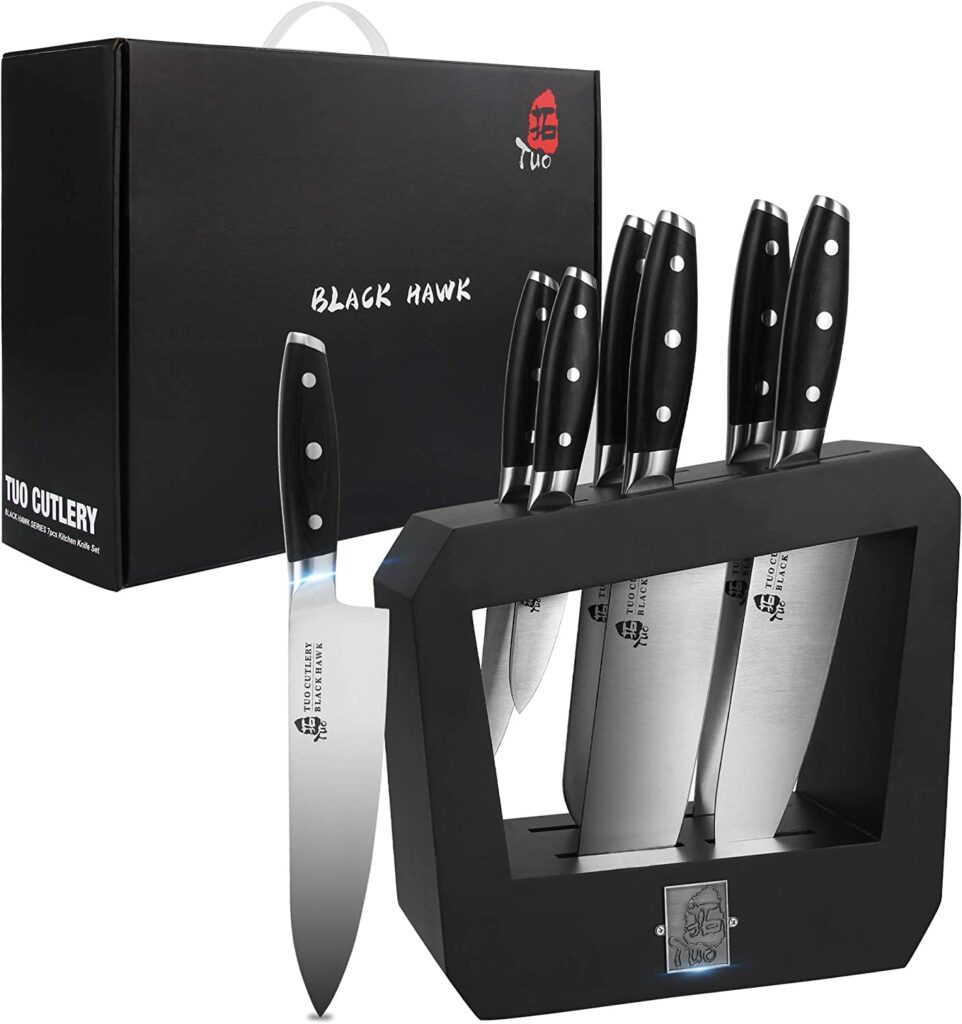 When you're looking for a knife that will last you a lifetime, you want to make sure it's the best. That's why Tuo Cutlery designed Black Hawk Series.
Tuo Cutlery Black Hawk Knives are precisely tempered. This means that the blades are heated to a precise temperature, and then cooled very quickly, creating a hard edge that's extremely sharp but also incredibly flexible. The hardness of this edge makes it possible to cut through tough materials without damaging the blade itself, while the flexibility allows you to make very precise cuts.
The blades are nitrogen-cryogenic treated, which means they're filled with liquid nitrogen and stored in a vacuum at low temperatures. This creates a super-hard edge that is razor-sharp and virtually impossible to break—even if you try to pound on it with a hard object or something similar!
The knives have hand-sharpened edges at 8-12 degrees per side, so they can be used as normal kitchen knives without any problems. The triple rivets offer exceptional comfort and maneuverability when used for chopping vegetables or other foods. They also feature lifetime warranties against defects in workmanship or material.
Noor Khadija got her hands on a Black Hawk 8-inch chef knife and she says that the Black Hawk Knives offer exceptional comfort and maneuverability. She further adds, you're going to want to get your hands on these knives. They're made from Pakkawood handles, triple riveted for added strength, and offer outstanding durability.
Set Includes:
9" Bread Knife, 8" Chef Knife, 7" Santoku Knife, 6.5" Nakiri Knife, 5" Kitchen Utility Knife, 3.5" Kitchen Paring Knife, Wooden Block. 
Pros
These knives are hand-sharpened at 8-12 degrees per side, which means that your knives will be razor-sharp from the first time you use them—and they'll stay sharp for years to come!
The handle is made from pakkawood—a hardwood that's extra durable and perfect for any kind of cutting task.
The knife comes with a lifetime warranty (if you ever have any issues), so you can feel confident about your purchase.
Triple rivets ensure durability for years to come.
Cons
No cons for this Tuo cutlery series
Dark Knight Series Knives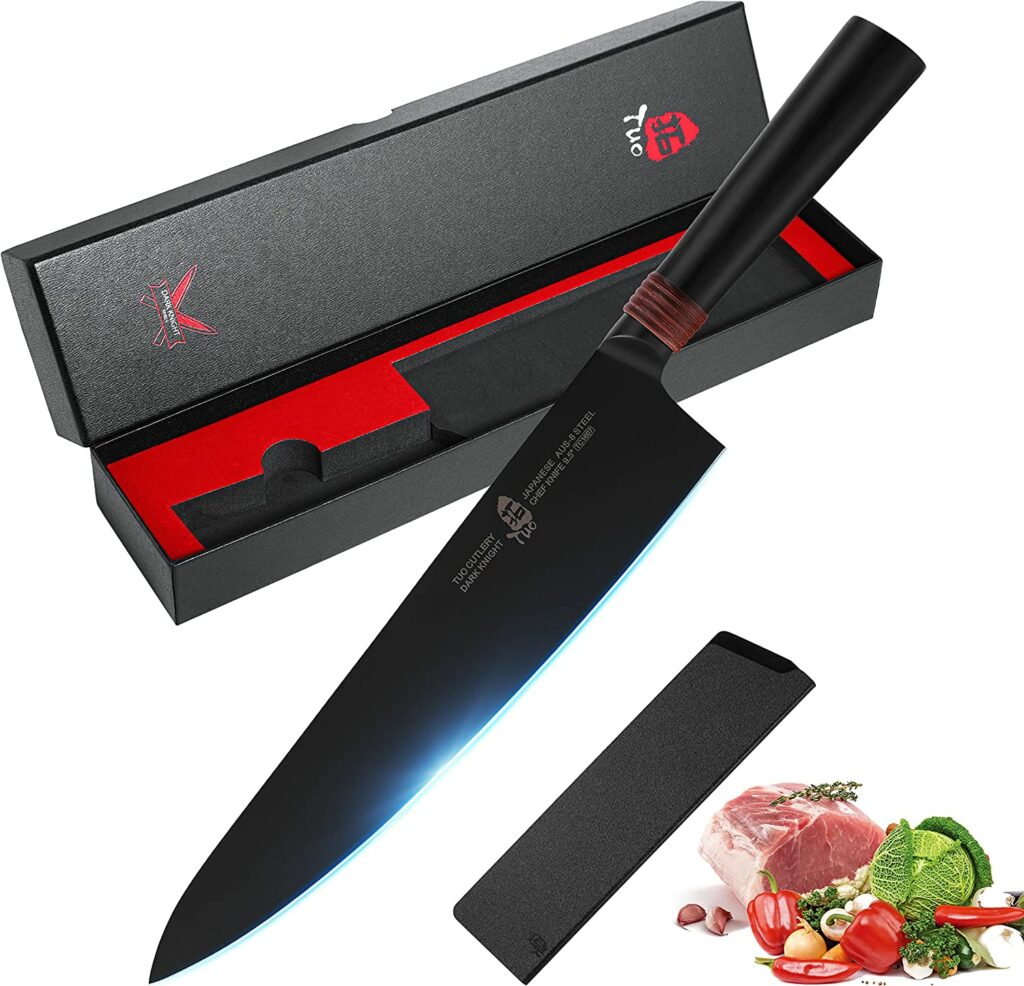 The Dark Knight Series Knives are some of the most beautiful knives we've ever seen. They're sleek, elegant, and built to last—and they'll help you master your cooking skills.
These knives are made of stainless steel, so they won't rust or tarnish no matter how much time you spend in the kitchen. The dark handle gives them a sleek, professional look that's sure to impress anyone who sees it. And the blade is made of rust-resistant steel with a razor-sharp edge that cuts effortlessly.
And that's not all! Each knife comes with its own storage case, so you can keep them organized and ready for use whenever inspiration strikes!
The Dark Knight series is a great choice for any home cook looking for a knife that can help increase their cooking skill. These knives will be your best assistant in the kitchen, helping you cut food with ease and precision every time you use them.
Related: Cangshan knives review
Pros
These knives come in a luxurious black appearance that will make your kitchen stand out from others
With a sleek design, these knives will be sure to impress everyone who comes over to visit!
The knives are made from stainless steel and feature a rust-resistant blade that cuts effortlessly
It is the perfect series for helping you cut straight lines and cleanly slice food.
Cons
Only comes in black color
Fiery Phoenix Series knives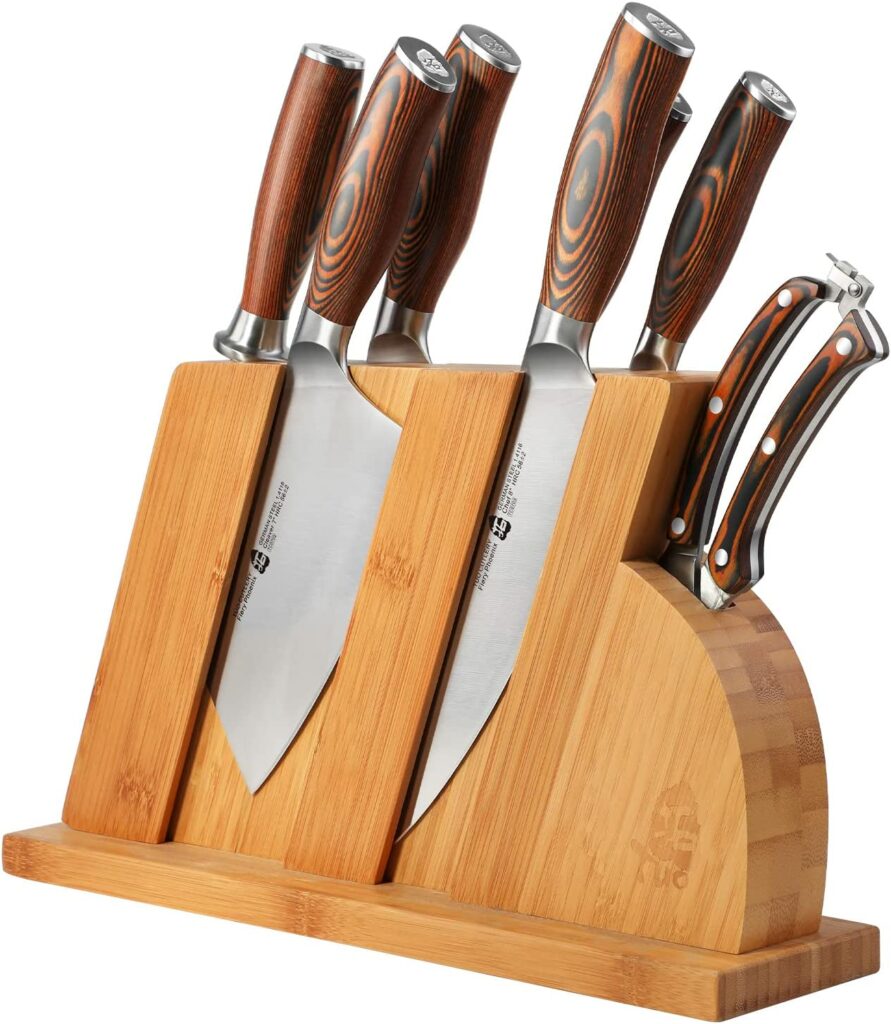 Tuo Cutlery Fiery Phoenix Series knives are made with the best materials, and they're designed for the home cook.
These ergonomic knives are made from high carbon X50Cr15MoV German stainless steel, which means they'll hold an edge for years to come. They are also tapered, so you can chop up your food efficiently with little effort on your part. The full tang design means that your knife is sturdy and reliable, so it will hold up even in the hands of a beginner chef.
Fiery Phoenix Series knives are ergonomic and designed to get the job done. They're made with a trusted material and experienced craftsmanship, to last long into the future.
This series also comes with Pakkawood handles—a luxurious material that makes these knives feel great in your hand. The handles are sturdy enough to handle any situation, yet elegant enough to make sure you look good while doing so!
Related: Cutco knives review
Set Includes
4″ paring knife, 7″ cleaver knife, 7″ santoku knife, 8″ chef knife, 9″ bread knife, honing steel, kitchen shear, wooden block.
Pros
These blades have been crafted with a full tang structure so they won't bend or break even under extreme pressure.
The knives in this series are made with a German stainless steel alloy X50Cr15MoV, which is known for its strength and resistance to corrosion.
Fiery Phoenix Series knives provide an elegant look that will complement any kitchen setting.
The Pakkawood handle is comfortable to hold and allows for easy cleaning without losing its shape.
It will hold up even in the hands of a beginner chef.
Cons
No cons for this series
Falcon Series Knives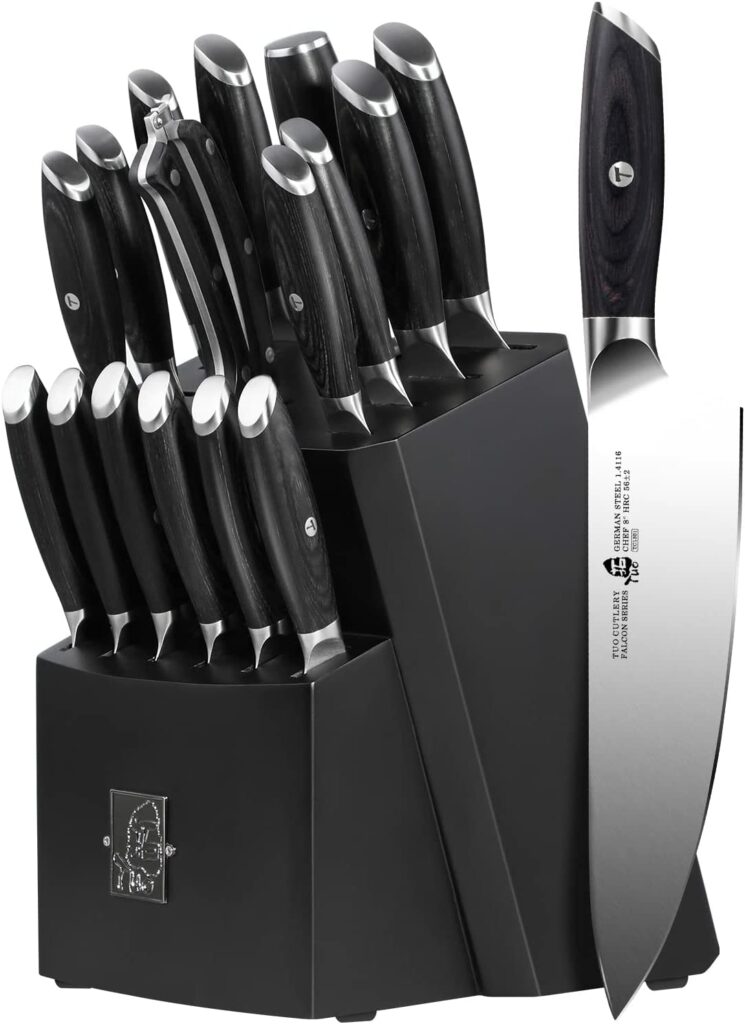 The Tuo Cutlery Falcon Series Knives are designed for any chef or cook. They have a simple design and practical functionality that make them perfect for everyday use. German stainless steel material in the blade ensures durability and long-lasting use.
The knives also have tapered tips for an even easier cutting experience, allowing you to cut through hard-to-reach areas without having to worry about getting your fingertips caught in the blade like with other knives. The handles are made from durable material that can withstand heavy use while still maintaining a comfortable grip during any task in the kitchen or restaurant.
The handles of these knives are riveted, so they can be used for most tasks in the kitchen or restaurant.
The Falcon series knives are a great choice for anyone looking for a simple, practical, and ergonomic design.
Related: Global knives review
Set includes
8 inch Bread knife, 8 inch Chef knife, 7 inch Santoku knife, 7 inch Boning knife, 5 inch Utility knife, 5 inch Tomato knife, 5 inch(*6) Serrated steak knife, 3.5 inch Paring knife, 2.75 inch Bird beak paring knife, 8 inch Sharpening steel, Chicken scissors, Wooden block.
Pros
The Tuo Cutlery Falcon Series Knives are simple, practical, and ergonomic.
They are made of German stainless steel and have an ergonomic design, so they're great for any task, whether it's chopping vegetables or slicing meat.
The knives feature German stainless steel, an edge that's been sharpened to 8-12° per side, and a tapered design that ensures all kitchen tasks are handled with ease.
Cons
Few reviewers have complained about knife block set
Legacy Series Knives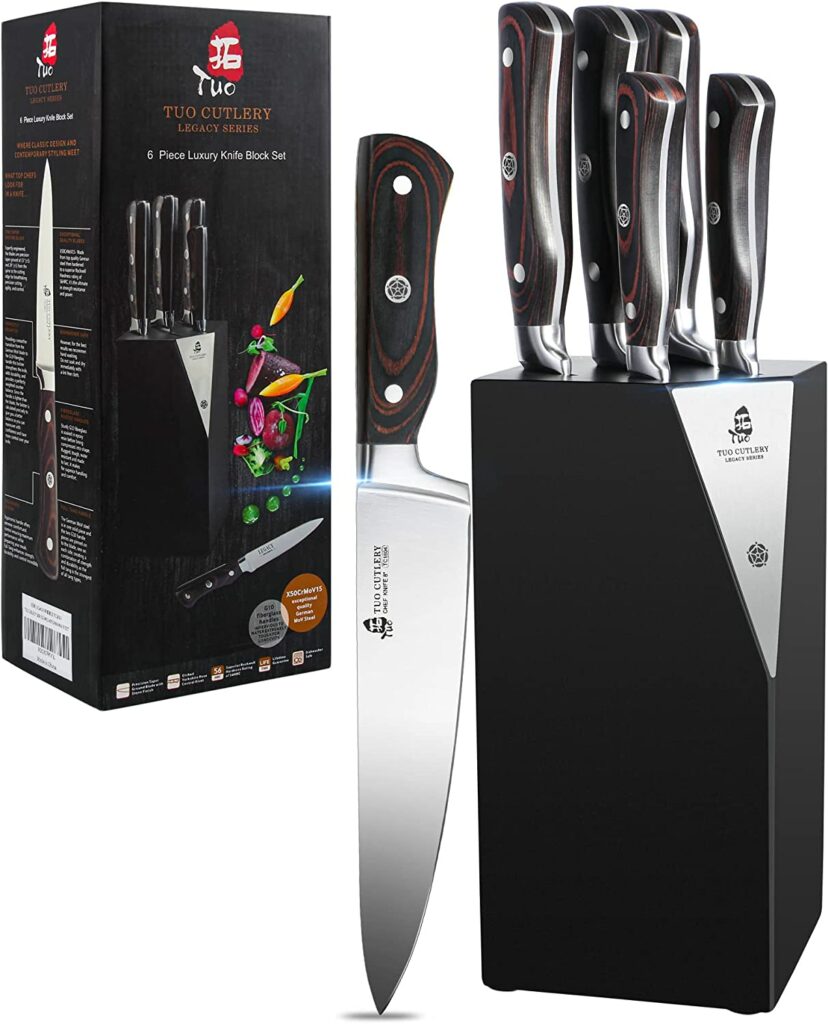 The Tuo Cutlery Legacy Series Knives are a great choice for anyone who is looking for a durable, reliable knife that won't break the bank. Each knife is handmade of high-quality German stainless steel and comes with a full tang G10 handle, which makes them sturdy and easy to hold. The knives have ergonomic handles that ensure comfort when using the knives for long periods of time.
The Legacy Series has a satin finish and the knives are perfect for small tasks like cutting vegetables or slicing meat because they have good cutting power and stability. The handles are also comfortable on your hands while you're using them which means that you'll be able to use them for longer periods of time without getting tired or uncomfortable.
All these features combined make these knives an excellent choice for anyone who needs a knife that will last them through thick and thin!
Related: Henckels knives review
Set Includes
8″ Chef Knife, 8″ Slicing knife, 8″ Bread knife, 5″ Utility knife, 4″ Paring knife, and a Wooden Block.
Pros
The Legacy Series Knives are made with German stainless steel blades and riveted full-tang G10 handles.
They're also very affordable, making them good for small tasks around the house or office.
The satin finish and full bolster on the handles ensures that the knife continues to look beautiful even after years of use.
This series of knives are good for cutting small tasks and are safe to use for left-handed users.
Cons
Not dishwasher safe
The Different Types of Tuo Knives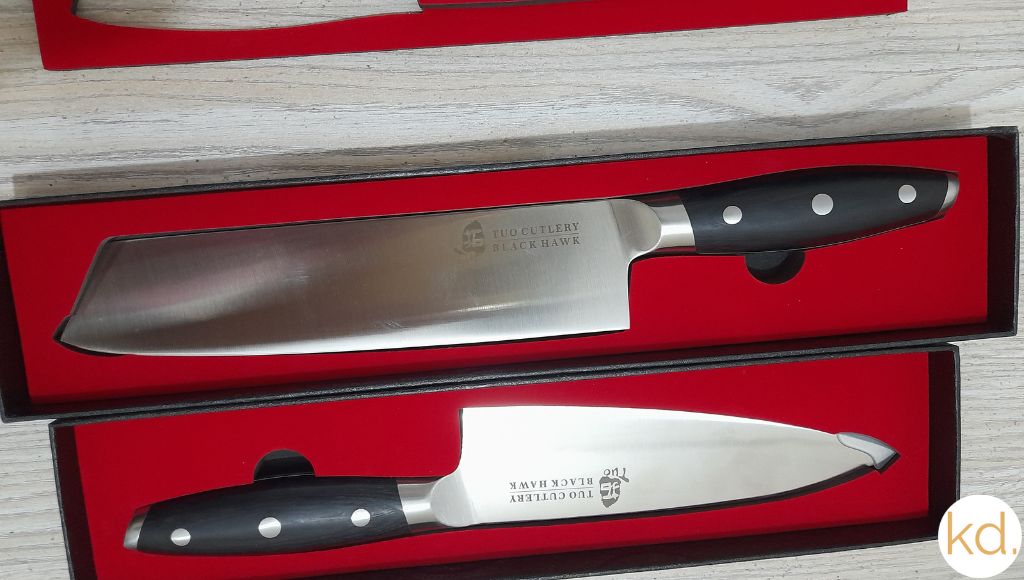 Tuo cutlery is a top-notch manufacturer of quality kitchen knives. Whether you're looking for a chef's knife, paring knife, or steak knife, Tuo has something to offer. Their knives are renowned for their excellent craftsmanship and sharp blades, making them the perfect choice for any kitchen.
When it comes to kitchen knives, there are several different types available from Tuo. They offer a variety of sizes and styles, so you can find the perfect knife for any job.
Here is an overview of the different types of Tuo knives:
Paring Knife
The paring knife is a small and lightweight knife that is perfect for peeling and slicing fruits and vegetables. The blade is typically 3 to 4 inches long with a pointed tip.
Chef's Knife
A chef's knife is larger than a paring knife and is used for chopping and slicing. Its blade is usually between 8 and 12 inches long and has a curved shape to make chopping easier.
Santoku Knife
The Santoku knife is a popular all-purpose kitchen knife that is perfect for mincing, slicing, and dicing. It has a flat blade with a straight edge that is usually 6 to 8 inches in length.
Related: Santoku vs Chef knife
Serrated Knife
This type of knife is ideal for slicing bread, tomatoes, and other soft foods. Its blade is serrated, which makes it easier to saw through tough surfaces without tearing or crushing the food.
Steak Knife
The steak knife has a sharp, pointed tip and a curved blade that makes it great for cutting through steak and other meats. The blades are usually 4 to 5 inches in length and have serrations to help cut through meat without tearing it apart.
No matter what type of knife you need, Tuo cutlery has an option for you. From paring knives to steak knives, their knives are designed to provide optimal performance in any kitchen setting.
What Makes Tuo Knives Stand Out?
Tuo knives are quickly becoming one of the most popular and highly sought-after brands of cutlery on the market. The brand offers a wide range of knives that are made from high-quality materials, crafted with precision and care, and designed for maximum performance. Whether you're looking for an everyday knife or a professional chef's tool, Tuo knives will provide you with the perfect balance of quality and affordability.
So, what makes Tuo knives stand out? Here's a quick look at some of their key features:
Premium Materials
Tuo knives are made with high-grade stainless steel and durable resin handles. This ensures that each knife is tough and can withstand regular use in the kitchen.
Quality Craftsmanship
Every Tuo knife is meticulously crafted with attention to detail. From the blades to the handles, every aspect is carefully constructed to ensure that it will perform optimally.
Precision Design
Tuo knives feature ergonomic designs for maximum comfort and efficiency. They are designed with an eye for detail, allowing you to work with precision and control.
Affordable Prices
Tuo knives are designed to provide excellent value for money. With prices starting from as little as $20, you can get a top-quality knife without breaking the bank.
When it comes to finding the perfect knife for your kitchen, Tuo knives are an excellent choice. With their combination of premium materials, quality craftsmanship, precision design, and affordable prices, they offer unbeatable performance and value for money.
Bottom Line
If you're looking for high-quality knives, then you'll want to check out Tuo Cutlery. With their unique design and superior craftsmanship, Tuo knives are some of the best on the market. Tuo knives are a top choice for all types of cooking tasks, because of their innovative and reliable designs.